Handwriting – Sometimes the right pencil CAN make a Difference
A few of my top choices
How is it so many kids struggle with Dysgraphia and yet there are so few options out there? Our kids are the ones who have some kind of "over-thumb grip" which makes writing so much more difficult. Every so often – I find a new option that really makes a huge difference for the different age groups I get to work with. Check them out – some are tougher to locate so I have linked them to Amazon to make it easier for you.
The first thing to remember is that pencil lead comes in several different thicknesses. Currently, you can find them in .5mm, .7mm, .9mm and 1.3mm. For your youngest writers, pencils with a 1.3 lead will give them solid stability and they'll break it less often. There is a pencil that includes that as well as a triangle shape that makes it easier to hold. The kids that seem to appreciate them the most are K-4th grade. Here are choices below.
Papermate Triangular pencils They have them with colorful designs as well as characters from Frozen and Marvel Superheroes. We let the students we are screening "test them out" and if they choose – they can keep it at the end. I think I've only had one given back to me.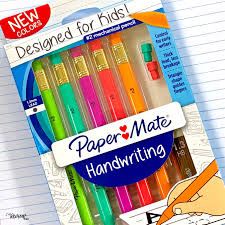 Bic Velocity MAX Mechanical Pencil .9 lead has a thicker lead but also a larger eraser which so many of us can appreciate. It also has a gel like gripper that my students seem to love. This one seems to go over well with 3-6th graders and actually work for 200 points to get them so these are an obvious hit.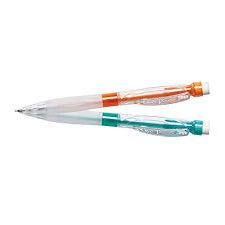 Once students get more comfortable with writing, it seems as though they can move to the thinner leads but honestly, as an adult, I still like using a .9mm lead in my pencils.
One of the final pieces I discovered way too late in life was erasable pens. When you have highschool students worrying about taking notes, signing their name or filling out job applications and want to use pen, this is a solid option.